Scan documents into SAP DMS
SAP contains also a document management system (DMS, GOS) features and has Archive- Link interfaces to connect 3rd party archive backend systems to the SAP system landscape. The SAP system allows you to save scanned files and documents at the business object. The documents are stored and available for users that have the authorization to the business objects and the documents.
More and more companies are using other tools as well. Our passion is to integrate all of these systems to grant optimized processes.
Overview:
Sharepoint-SAP DMS Integration
Scan-Server for automatic assignment

Example Invoice & Delivery Note process

Office-Addins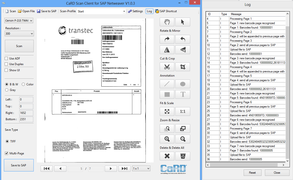 Semi-Automated process
With our CaRD Scan Client for SAP you will be able to scan documents directly from your TWAIN compatible scanner into SAP. Easy and efficient. Documents which are labeled with a barcode can be assigned to the related SAP object directly and online. If you scan documents without barcodes you have also the chance to assign the scan manually to the related SAP object. All documents can be assigned to the related SAP business object - independent of the archive which you use in background.
Features:
- Rotate, Delete, Zoom, Paging
- Barcode detection
- Split files
- Scan into more than one SAP system
- TWAIN compatible
- Online Scan with up to 64 pages per Scan
- Manual assignment to SAP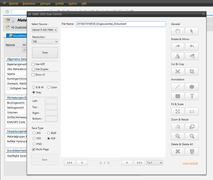 SAP Scan Control

The SAP Scan Control is a lean and efficient solution which saves time and money. You can easily scan your documents and save them in SAP. You can use Feedscanner and all other TWAIN compatible scanners to attach files to your SAP business objects. We also offer backend archive solutions and interfaces like our ArchiveLink interface for the Microsoft Sharepoint Server.
All TWAIN compatible Scanner (ADF, Duplex etc.) with different formats (PDF, TIF, PNG, BMP, JPG) including multi-page features and other nice editing tools to rotate, cut, mirror or annonate the scanned document.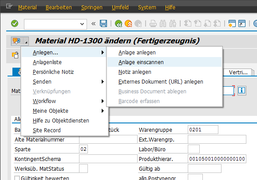 Scanner & TWAIN integration for your business objects
With the CaRD Scan Control Integration for SAP you will be able to scan documents directly from your TWAIN compatible scanner into SAP. Easy and efficient. This works for the Generic Object Services (GOS) as well as for Document Info Records (DIR) as part of SAP PLM. The scan features are 100% compatible with any ArchiveLink backend archive like openText and others. We are also using SAP standard functionalities and context menus. Your scanned documents can be attached to nearly all business documents and to individual created ABAP programs and reports. This allows you to attach scanned documents to material master, customer, sales orders, FI postings, Material postings, delivery notes, personnel files, vendors and all other business objects. You can also use the CaRD Scan control within SAP PLM to scan drawings, manuals and other objects and save them as original integrated within a Document Info Record.
We also offer barcode scanning solutions and Windows Scan Clients for users which have no SAP know how or access to SAP. The documents will be attached without user interaction to the corresponding SAP business object. Please do not hesitate to contact us for further information, details and a online demo.
We can also offer individual solutions for your archive and your SAP landscape. This includes individual interfaces as well as data migrations into and out of SAP and the backend archive solutions.
You can find more details on our Youtube channel
https://www.youtube.com/channel/UCqaYXaXgJVdoVazViHTHqlA/playlists