Scan-Client and Scan-Server for SAP
Optimize your existing SAP archive/content repository with the Scan Client. It supports your existing system landscape.
With our software tools you can assign and attach documents and scans automatically. We are able to create barcode labels during the posting process and provide the barcode as label for the document which will be archived semi-automatically or fully-automated.
You have the choice between two processes which we support:
1. Semi-Automated process with our CaRD ScanClient
2. Full-Autonmated process with our CaRD BarcodeScanServer.

Both products support you to archive your documents properly and consistent. The effort for manual work will be reduced dramatically when using our products.
If you would like to learn more about our products, please fo not hesitate to contact us.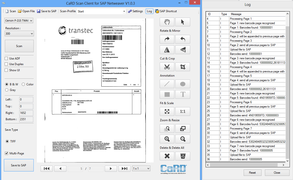 Semi-Automated process
With our CaRD Scan Client for SAP you will be able to scan documents directly from your TWAIN compatible scanner into SAP. Easy and efficient. Documents which are labeled with a barcode can be assigned to the related SAP object directly and online. If you scan documents without barcodes you have also the chance to assign the scan manually to the related SAP object. All documents can be assigned to the related SAP business object - independent of the archive which you use in background.
Features:
- Rotate, Delete, Zoom, Paging
- Barcode detection
- Split files
- Scan into more than one SAP system
- TWAIN compatible
- Online Scan with up to 64 pages per Scan
- Manual assignment to SAP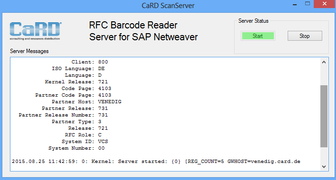 Full-Automated process

With our CaRD BarcodeScanServer you can process your documents in batch mode without any user interaction. The documents will be scanned for barcodes and will be automatically assigned to the related business object. This will save time and is the most efficient way to assign your scans to SAP and to upload the scan into the archive.
We support all backend archives which are linked to SAP using the archive link interface.
Features
- Barcode detection
- Automated assignment to SAP
- Log and monitoring
- Multi-Page compatibility
- PDF conversiono for the archive
- Split of multi-page files
- 1:n relationship between SAP object and barcodes
- Multithreading
- Available as Application and Windows Service
In addition we offer also solutions for RFID and barcode scanning solutions for a lot of use-cases, like for production and product structure scans to fullfull the FDA requirements.
There is a easy license model available which allows you to scale the ScanClients.
The licenses are user based.
We also offer individual solutions for your archive, data migration and your SAP landscape. This includes individual interfaces as well as data migrations into and out of SAP and the backend archive solutions.
You can find more details on our Youtube channel
https://www.youtube.com/channel/UCqaYXaXgJVdoVazViHTHqlA/playlists