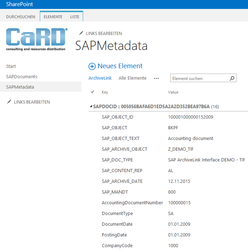 Sharepoint ArchiveLink Interface for SAP DMS
You are now able to use SharePoint as SAP content server for SAP DMS out-of-the-box. CaRD offers an ArchiveLink interface for Sharepoint to connect both products to each other and to use your SharePoint system (or SharePoint online) as content server for SAP. The ArchiveLink interface allows you, to use your Sharepoint System as backend for your files and documents. Your documents will be saved in Sharepoint as backend system and you can also save index information belonging to each file within Sharepoint. With this information you will be able to find your files not only in SAP - you can then search for your files also in Sharepoint. Due to the fact that we are using standards you can also link your own lists to the files or manage user access with the standard features of the Sharepoint Server.
The interface is 100% compatible with OAWD, GOS and SAP PLM and works also with document info records.
If you want us to send you more details about our Add-on please let us know and do not hesitate to contact us.
If you would like to use our Office Add-ins to archive your files in SharePoint and link them to SAP, please have a look at our Office and Windows Explorer Add-ins. For scanning we also offer our ScanClient (for TWAIN kompatible Scanners) to scan document into the SAP content repository.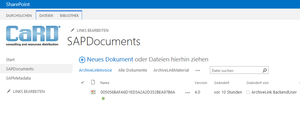 All SAP Meta- and Index information can be tranferred very easily from SAP into Sharepoint. The fields are fully customizable and can be managed by your own.
All documents can be searched within SAP AND Sharepoint as well. This depends on the individual customizing and requirements.
We also offer customer specific implementations such as uploading files in Sharepoint and attaching the files to related business objects within SAP.
Our Sharepoint ArchiveLink Connector for SAP is compatible with the latest Sharepoint Server version and supports also Sharepoint 2013, 2010, Office 365 and Sharepoint online.
Our CaRD Sharepoint ArchiveLink Connector for SAP is fully compatible with Office365 Sharepoint.
We have also knowhow in implementing .net, Lists and Webservices based on SAP Gateway, SAP Netweaver and DUET Enterprise, so that we can support you in using all technologies around connecting Sharepoint and SAP as well.