CaRD Product structure Add-ons
Produkt structure report
The CaRD Product structure-Add on provided a common feature to analyse and manage product structures which have been created with the iPPE and PLM 7 PSM. The report is designed by a flexible and generic way that means that the end-user can define layouts and selections very easily - no change in the coding is required.
Several export features for Microsoft Excel and other formats like ASCII, XML etc. are available in the standard edition.
Features
Analysis of a product including simulating explosion
Comparision of products that ae configured and valid at a specific date
Analysis of specified modules or definied parts of the structure
usual configuration logic or fuzzy configuration
Including customer specific attributes
Flexible sorting and output management
Links to open the results in the Tree-Browser controls of iPPE and PSM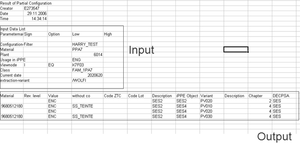 CaRD Product structure-Scan Add-on
Capture complete product structures based on serial number labels with barcode readers or mobile devices during within the shop floor area! You would like to know how this can be done without 3rd party tools? With our customer solution this can be done very easily directly into SAP without installing additional software on your devices and barcode readers! Best integration within SAP is guaranteed! Independent if you are using PLM7, iPPE, Equipments, BoMs or iBases - we have the best solution!
Our scan solutions are ideal designed for shop floor and manufacturing processes. The design is used to save and read the data in real-time by communicating directly to the SAP systems. All requirements regarding legacy and FDA are fulfilled.
In addition to the product structure Add-on we have also solutions for goods issue and goods receipt processs available!
If you are interested in one or more of these solutions please do not hesitate to contact us!