CARD Materials Master Report Interpreter
The requirements and expectations regarding multi language maintained short and long text information are growing. To manage the quality issues related to translated words, phrases and texts CaRD has implemented the CaRD Material Master Report Interpreter which helps you to solve all these language dependent issues.
Materials Master Report Interpreter
Using the Materials Master Report Interpreter (MMRI) helps the users to maintain language dependent words, phrases and texts in the definied quality. The logic behind uses a reusability functionality of one time translated words. This means that you have to translate a world one time and will be update in all other objects where the word has been used automatically and in background.
Additional features
automated generation of multi language short texts in the material master.
initial load of translated words
update of the idientified phrases in short texts
Optional a export package is available which allows to im- and export the data by simple ASCII, CSV and Excel files.
This can be used if you are translating your products and information with an external partner which has to translate multi-used words just one single time.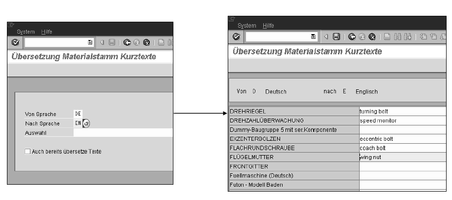 Benefits
- single words will be one time translated which saves money and time
- automated translations will be performed automatically in background