VIEWNIQ CAD Viewer for SAP

VIEWNIQ ist a client-server based 2D/3D CAD Viewer which supports you with a lot of features like plot-management, watermarks, comparison, collaboration, renderings and markups. All features can be used within your browser window or embedded in SAP.
Detailed features: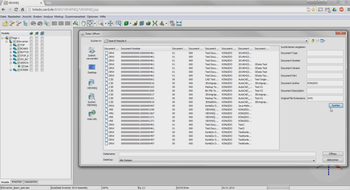 Companies that are using our Viewer Software VIEWNIQ do only need one single viewer for nearly all file formats with different versions. Different programs can be replaced with our VIEWNIQ CAD 2D/3D viewer for SAP. The platform independent implementation works on windows clients and requires a server instance (load balancing is possible when using a farm). A lot of features like screensharing, collaboration and most of the other features can be used out-of-the box without any further customizing. VIEWNIQ has interfaces for SAP, Comos, Sharepoint and Teamcenter.

Different licensing models are available. Single-Licenses, per User and Enterprise Licenses are available. Please let us know your requirements and we will inform you about the costs and further details.
Individual interfaces can also be implemented for your standard program if our products do not fullfill your needs and requirements. Please do not hesitate to contact us for further details and more information an +496222 92560.
More videos, manuals and tutorial for "VIEWNIQ" are available on our Youtube-Channel unter https://www.youtube.com/channel/UCqaYXaXgJVdoVazViHTHqlA/feed and in our appstore at appstore.card.de
Demo-Installations
Please send us an email and request a demo license info@card-america.com for a free Demo-Installation, to test VIEWNIQ with the SAP integration.

For further questions do not hesitate to call us at +49 6222 9256-0 or send us an e-Mail info@card-america.com